Sometimes we need a little bit of motivation to get us by. If you find you're in a rut or looking to get into real estate investing and need some inspiration to start, this is the article for you!
These inspirational real estate quotes show human ingenuity, and how much of an imperishable asset real estate is.
We've scoured many real estate websites to find these quotes, and arranged them by category, so you can skip ahead to the real estate quotes you need to read.
Inspirational Real Estate Quotes
Need some inspiration? Here are some inspiring real estate quotes!
"I'm a big believer in a high-quality realtor and I endorse realtors for that reason. High-quality real estate agents all over America." ―Dave Ramsey
"Real estate is an imperishable asset, ever-increasing in value. It is the most solid security that human ingenuity has devised. It is the basis of all security and about the only indestructible security." ―Russell Sage
"There have been few things in my life which have had a more genial effect on my mind than the possession of a piece of land." ―Harriet Martineau
"In the real estate business you learn more about people, and you learn more about community issues, you learn more about life, you learn more about the impact of government, probably than any other profession that I know of." ―Johnny Isakson
"Real estate cannot be lost or stolen, nor can it be carried away. Purchased with common sense, paid for in full, and managed with reasonable care, it is about the safest investment in the world." ―Franklin D. Roosevelt
"Owning a home is a keystone of wealth…both financial affluence and emotional security."―Suze Orman
"Landlords grow rich in their sleep." ―John Stuart Mill
"The major fortunes in America have been made in land." ―John D. Rockefeller
"Time is more valuable than money. You can get more money, but you cannot get more time." ―John Rohn
"The way we see it, real wealth means having the money and the freedom to live life on your own terms." ―Rich Fettke
"I would give a thousand furlongs of sea for an acre of barren ground." ―Shakespeare
"Buying real estate is not only the best way, the quickest way, the safest way, but the only way to become wealthy." ―Marshall Field
"The best investment on Earth is earth." ―Louis Glickman, Real Estate Investor and Philanthropist
"He is not a full man who does not own a piece of land." ―Proverb
"Buy land, they're not making it anymore." ―Mark Twain
"Success in real estate starts when you believe you are worthy of it." ―Michael Ferrara
"[Real estate] is like Jack and the Beanstalk's goose that lays golden eggs. It's something that pays you month after month, whether you are working or not." ―Kathy Fettke
"If you don't like where you are, move. You are not a tree." ―Jim Rohn
"The bottom line: investing in real estate is smart because property is tangible. People always have, and always will, need shelter. This means it is very unlikely that our need for shelter (ie: buying or renting homes) will ever go away." ―Kathy Fettke
"Buy on the fringe and wait. Buy land near a growing city! Buy real estate when other people want to sell. Hold what you buy!" ―John Jacob Astor, Real Estate Developer
"Land monopoly is not only monopoly, but it is by far the greatest of monopolies; it is a perpetual monopoly, and it is the mother of all other forms of monopoly." ―Winston Churchill
"What we call real estate – the solid ground to build a house on – is the broad foundation on which nearly all the guilt of this world rests." ―Nathaniel Hawthorne
"When you invest, you are buying a day that you don't have to work." ―Aya Laraya
"You cannot afford to live in potential for the rest of your life, at some point, you have to unleash the potential and make your move." ―Eric Thomas
"Don't wait to buy real estate, buy real estate and wait." ―Will Rogers
"In the real estate business you learn more about people and you learn more about community issues, you learn more about life, you learn more about the impact of government, probably than any other profession that I know of." ―Jhonny Isakson
"You are not buying a house, you are buying a lifestyle." ―Anonymous
"Now, one thing I tell everyone is learn about real estate. Repeat after me. Real Estate provides the highest returns, the greatest values, and the least risk" ―Armstrong Williams
Funny Real Estate Quotes
Laughter can be the best medicine, and sometimes what we need in our lives is a little bit of humor. Here are some funny real estate quotes to keep you going with a smile!
"Judging by your pins, you'll need a house with 14 bathrooms, 27 living rooms, and a master closet the size of a small village." ―Someecards
"Sleep is for people without access to the MLS" ―Lighter Side of Real Estate
"Please, tell me more about how you're an expert in real estate because you watch HGTV." ―Someecards
"The neighbors always leave their sprinklers on, which is a little bit annoying. It's a source of constant irrigation." ―LaffGaff.com
"You don't have to be too bright to get into real estate." ― David Lichtenstein
"I need your listing, I already sold all mine." ― Anonymous
"Buildings don't move, but neighborhoods change all the time." ― Anonymous
"I had probably seven agents by the time I became a legitimate real estate broker." ― Barbara Corcoran
"YOLO = You Only List Once … when you list with me!" ― Anonymous
"To my real estate agent, Chernobyl is a fixer-upper." ― Yakov Smirnoff
"I would do dry January, but I'm a real estate agent." ― The Broke Agent
"If you want to get rich in real estate, sell things to Realtors." ― Anonymous
"In real estate, you make 10% of your money because you're a genius and 90% because you catch a great wave." ―Jeff Greene
"If I were a professional wrestler, I'd want a name that strikes fear in most people. Something like, 'The Underwriter'." ―Lighter Side of Real Estate
"I am basically a full-time psychologist who shows houses every now and then." ―Dori Warner
"Why, yes … that'd be fantastic if your parents, grandmother, and second cousin came along while I showed you houses today." ―Amy Chrisman-Williams
"A funny thing happens in real estate. When it comes back, it comes back up like gangbusters." ―Barbara Corcoran
"A real estate agent has two property listings. Now add 11 more. What does the agent have now? Happiness. That agent has happiness." ―Tim Dulany
Famous Real Estate Quotes
"Real Estate investing, even on a very small scale, remains a tried and true means of building an individual's cash flow and wealth." ―Robert Kiyosaki
"Real estate is my life. It is my day job if you will but it consumes my nights and weekends as well." ―Ivanka Trump
"In so far as Government lands can be disposed of, I am in favor of cutting up the wild lands into parcels, so that every poor man may have a home." ―Abraham Lincoln
"I will forever believe that buying a home is a great investment. Why? Because you can't live in a stock certificate. You can't live in a mutual fund." ―Oprah Winfrey
"Every person who invests in well-selected real estate in a growing section of a prosperous community adopts the surest and safest method of becoming independent, for real estate is the basis of wealth." ―Theodore Roosevelt
"Before you start trying to work out which direction the property market is headed, you should be aware that there are markets within markets." ―Paul Clitheroe
"Ninety percent of all millionaires become so through owning real estate. More money has been made in real estate than in all industrial investments combined. The wise young man or wage earner of today invests his money in real estate." ―Andrew Carnegie
Insightful Real Estate Quotes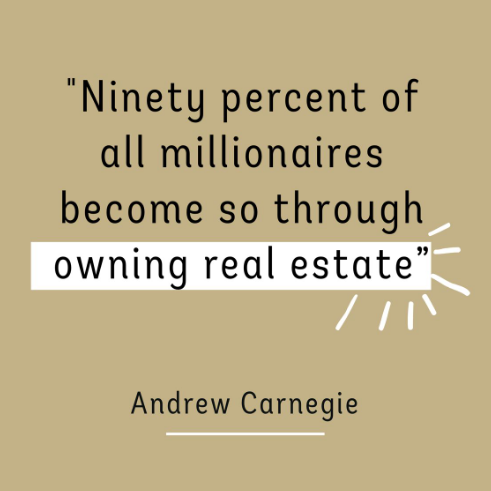 "If you love life, don't waste time, for time is what life is made up of. ― Bruce Lee
"If you circle above Central Park at night in a helicopter, you're looking down at the most expensive real estate in the world. It's the American Monopoly board." ― Ridley Scott
"Perhaps the secret to making a billion dollars in real estate is that there is no secret." ― David Lichtenstein
"The only person you are destined to become is the person you decide to be." ― Ralph Waldo Emerson
"A pessimist sees the difficulty in every opportunity; an optimist sees the opportunity in every difficulty." — Winston Churchill
"If you are not in the process of becoming the person you want to be, you are automatically engaged in becoming the person you don't want to be." ― Dale Carnegie
"A complainer is like a Death Eater because there's a suction of negative energy. You can catch a great attitude from great people."―Barbara Corcoran
Real Estate Business Quotes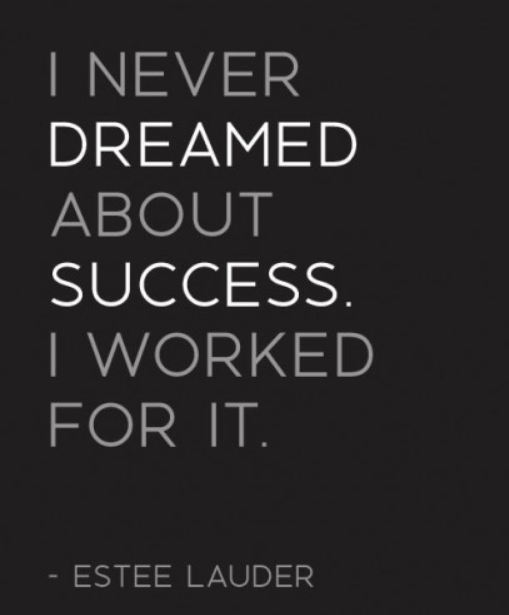 "You must never try to make all the money that's in a deal. Let the other fellow make some money too, because if you have a reputation for always making all the money, you won't have many deals." ― J. Paul Getty
"Never forget the power of silence, that massively disconcerting pause which goes on and on and may last induce an opponent to babble and backtrack nervously." ― Lance Morrow
"Diplomacy is the art of letting someone else have your way." ― Sir David Frost
"Allow other people to speak first; the important factor is not who talks … it's who listens." ― Ilana Eberson
"Make a customer, not a sale." ― Katherine Barchetti
"Every sale has five obstacles: no need, no money, no hurry, no desire, no trust." ― Zig Ziglar
"If you can't say good and encouraging things, say nothing. Nothing is often a good thing to do, and always a clever thing to say." ― Will Durant
"In business, you're the Chief Salesman. Create a sense of demand, rather than waiting to have demand." ― Barbara Corcoran
"On average, five times as many people read the headline as read the body copy. When you have written your headline, you have spent 80 cents out of your dollar." ― David Ogilvy
"Without interest, you're plain white toast. Boring. Uninteresting. Seen it. Heard it. Moving on." ― Jessica Swesey
"Some copywriters write tricky headlines―double meanings, puns, and other obscurities. This is counterproductive. In the average newspaper, your headline has to compete with 350 others. Readers travel fast through this jungle. Your headline should telegraph what you want to say." ― David Ogilvy
"Private property was the original source of freedom. It is still its main bulwark." ―Walter Lippmann
"I have always liked real estate; farm land, pastureland, timberland and city property. I have had experience with all of them. I guess I just naturally like 'the good Earth,' the foundation of all our wealth." ―Jesse H. Jones
"In my experience, in the real-estate business past success stories are generally not applicable to new situations. We must continually reinvent ourselves, responding to changing times with innovative new business models." ―Akira Mori
It is a comfortable feeling to know that you stand on your own ground. Land is about the only thing that can't fly away. ―Anthony Trollope, English Novelist
"You need to fear not having the business more than you fear calling your leads." ―Beverly Ruffner, Real Estate Coach
"The house you looked at today and wanted to think about until tomorrow may be the same house someone looked at yesterday and will buy today." ―Koki Adasi
"As a real estate professional, if you're trying to build a big business, you need to invest in that business." ―Glenn Sanford
FAQs
What Are the 3 Types of Real Estate?
There are 3 types, Commercial, Residential, and Land. What's great about it, is that real estate cannot be lost or stolen.
Commercial
This includes buying property for retail, office, industrial purposes, and for multiple families.
Residential
This is mainly for people who want property to live in. What falls under this category are homes and vacation rentals.
Land
This is simply the sale of land. Land for commercial or residential development, land for farming, and land for mining all go under this category.
What Real Estate Means to Me
There are many things this can mean to a person. It's important to recognize what it means to you, and what value it has to your life.
Is it simply a means of shelter, or is it an investment or career? Maybe it could mean BOTH financial affluence and emotional security (Suze Orman) to you.
There are many meanings listed by many people – it is more than just perpetual monopoly or land monopoly, it is the only indestructible security (Russell Sage), or the most solid security.
Many say it is the safest investment in the world (Franklin D. Roosevelt, specifically).
While we cannot answer this question for you, hopefully, the quotes above helped you to find your own personal meaning.
What Is the Best Way to Get Started?
We all know landlords grow rich in their sleep (John Stuart Mill), ninety percent of millionaires are real estate investors, so how do you start?
While this is worthy of a whole separate article, we'll give you a summarized answer.
Buy Real Estate Investment Trusts (REITs). You can invest in REITs without the physical part of it.
Use an online investing platform. This will help you connect with brokers or investors and expand your network for finding leads and potential buyers.
Consider investing in rental properties. By renting out a property, you can get a steady income.
Consider flipping investment property. This involves investing in an underpriced home that needs renovation. You can fix it up and sell it for a higher price.
Rent out a room. If you have an extra room at home, it'll be easier to simply rent out a room. This way you can start small.
Buy land if you want to start off big.
Get your real estate license by passing your real estate exam.
Is Owning Real Estate Worth It?
While investing in property or land can seem scary, there are many reasons why you would want to do so!
At times, motivation may seem scarce, but so many people have great things to say about this field of investment!
It is purchased with common sense and managed with reasonable care, so be sure to take care of your investments!
While there are other forms of investing, these inspiring real estate quotes show that it's not only a monopoly we're talking about, but an investment in Earth (Louis Glickman), our greatest asset.
Hopefully, these real estate quotes helped to pick you up and put you back on your feet!